'The Handmaid's Tale'- Streaming Exclusively on Hulu Now!
As if there couldn't have been a better time for this adaptation to hit mainstream audiences, Margaret Atwood's 1985 foreboding, dystopian novel "The Handmaid's Tale" has finally made it's way to moving picture. Thanks to Hulu, longtime fans of Atwood's novel, restless binge-watchers and sci-fi nerds can rejoice in this much anticipated cinematic cautionary tale thanks to series creator Bruce Miller (The 100, Medium, Eureka).  Regardless if you were a fan of Atwood's  original novel or not, The Handmaid's Tale is guaranteed to leave you glued to the edge of your autonomous little seats.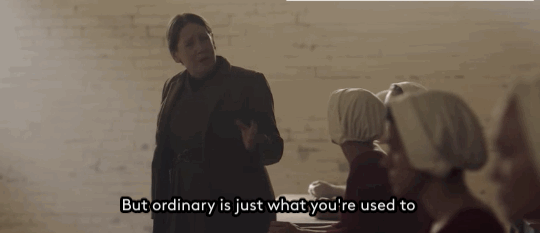 Imagine you woke up tomorrow and everything you ever loved, coveted or lived for was stripped from you and you were forced into a totalitarian society as nothing more than a lowly servant or even worse – enslaved breeding stock. Your family, career, home and rights have been stripped away and you are now forced to honor a way of life that is nothing more than an indentured existence of servitude, degradation and captivity. The horror of The Handmaid's Tale comes from the very tangible terror of being stripped of all rights from a conservative, fascist and/or chauvinist society. If you're a fan of timeless prognostications such as George Orwell's "1984" and Ray Bradbury's monumental censorship admonition – and quite possibly my greatest inspiration – "Fahrenheit 451".
Check out the trailer for The Handmaid's Tale, below:
Starring Elizabeth Moss (Mad Men, Girl, Interrupted), Alexis Bledel (Gilmore Girls, Sin City), Yvonne Strahovski (Dexter, Chuck), and this writer's undeniable girl-crush, Samira Wiley (Orange is the New Black, You're the Worst), The Handmaid's Tale is exactly the ethical cautionary tale we as the people really need right now. In addition to being one of the most raved about series to come this year, The Handmaid's Tale is genuinely entertaining and immensely captivating regardless of the of the deep moral, social and political implications. Streaming exclusively on Hulu, you can currently catch the first three episodes now while new episodes are currently being released each Wednesday until the 10 episode duration is reached.
Streaming exclusively of Hulu.
Why It's Worth the Binge: Recommended for fans of Harlots, The Path, Good Girls Revolt, The Walking Dead, Law and Order: Special Victim's Unit, and The Hunger Games.