As the good people of Earth continue their noble mission of reeling and healing from the blasphemous Glitter Epidemic of '08, a new strain of beast has risen to restore our faith in vampires, and I promise you that these ones have not been bedazzled. From the same cinematic genius who brought us Pan's Labyrinth, Guillermo del Toro has reinvented the vampire as we know it in his hit FX series The Strain. Returning for season three on August 28, there is no time like the present to make this your next horror selection.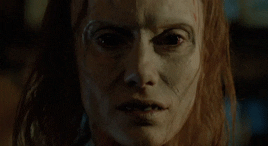 The Strain features a refreshingly different breed of vampire we have not seen thanks to the innovative minds behind the series' creation. Originally based off the book of the same title (and the first of a trilogy), from writer/director/producer Guillermo del Toro and writer Chuck Hogan, The Strain promises to both shock and nauseate both horror and procedural crime-drama fans alike. Forget fangs, forget melodramatic teenage love stories and forget the insufferable glamour-vamp clichés as you are introduced to the world amidst an epidemic of mutative ringworm-esque parasites that begin the vampire apocalypse in where else, but New York City.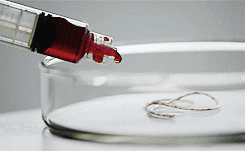 Packed with violence and gore, this brutal parasitic-vampire outbreak series will of course appeal to the guilty-pleasured horror fans in you all. In addition and in thanks to some great performances from actors such as Kevin Durand (Smokin' Aces, Lost), and David Bradley (Hot Fuzz, Harry Potter franchise), you are guaranteed to catch a few laughs along the way as well.
Currently streaming on Hulu and scheduled for its season premiere this month, this is the perfect time to catch up on the series. For those of you that joined us for our Bingeout Live w/ Four Eyes Podcasting Network last month you will be pleased to know that after a successful live-tweet binge event of American Horror Story: Asylum, we will be returning in just a few short weeks, but this time to indulge in The Strain with our fellow fans. Whether you power through the series now or plan to watch it for the first time with us in our next Bingeout Live event, The Strain is an interestingly unique take on a tainted [sub]genre of horror. Stay tuned at Bingeout and find us on Facebook and Twitter for further details on the next Bingeout Live date and time.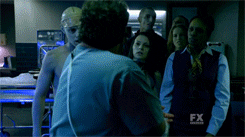 The Strain features some pretty graphic violence that although adored by horror enthusiasts, may be a bit too much for younger viewers. With 26 days left until the season three premiere, there is plenty of time left to not only get caught up with us, but prepare for our next live-tweeting event. We look forward to hearing your thoughts!
Available on Hulu
Time Commitment: 2 Seasons
– Rachael Rumancek
Follow me on Twitter @rachaelrumancek