Premiering just a matter of days ago, Netflix original series Santa Clarita Diet is already causing quite a stir across social media – and for bloody good reason! Absolutely absurd in all the right ways, this zombie thriller is filled with as much comedy as it is with carnage. A treat for fans of romantic comedies and a taste for gore, Santa Clarita Diet is the ideal binge out series for couples or, "Netflix and Chill," night.
Starring Drew Barrymore (Charlie's Angels, Donnie Darko) and Timothy Olyphant (Justified, The Crazies), Santa Clarita Diet is a surprisingly upbeat and light comedy about a couple dealing with an impromptu new cannibalistic lifestyle. Joel (Olyphant) and Sheila (Barrymore) Hammond are the idyllic middle aged married couple; they have been together since high school, they are partners in a successful real estate firm and they have a beautifully snarky 16 year old daughter who is the light of their lives. Everything seems perfect until the day Sheila wakes up with an insatiable craving she certainly can't ignore.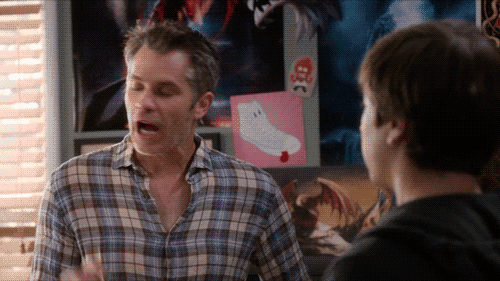 Olyphant and Barrymore are brilliant, sexy and undeniably hilarious in this raunchy comedy but they aren't the only stars shining on this screen. Some favorites you may recognize include funny guy Thomas Lennon (Reno 911!, I Love You Man), Richard T. Jones (American Horror Story: Hotel, Event Horizon), Portia de Rossi (Arrested Development, Scandal) and Mary Elizabeth Ellis (It's Always Sunny in Philadelphia, New Girl). Of course these are just a few names of some of the many recognizable and talented faces on the cast but they certainly were some of my favorite supporting actors.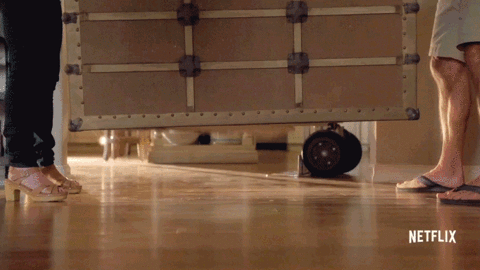 Although the plot itself is quite dark and grotesque, the overall tone is upbeat and the humor in Santa Clarita Diet is surprisingly light and whimsical. The horror themes in this show are quite apparent, however it's never overly graphic or controversial which certainly helps its appeal to a wider audience. Rarely one to actually laugh-out-loud while watching a comedy, Santa Clarita Diet had me howling in laughter every damn episode. This really is an all around great series, however keep in mind it is a show made for mature audiences so younger children will do best to sit this one out. Streaming exclusively on Netflix, check out the trailer below and let us know your thoughts on Santa Clarita Diet:
– Rachael Rumancek
Follow me on Twitter @RachaelRumancek
Available on Netflix
Time commitment: 1 season (10 episodes) running approximately 5 hours.
Why Its Worth the Binge: If you're a fan of iZombie, The Walking Dead, Arrested Development, Ash vs Evil Dead and Shameless, Santa Clarita Diet is definitely for you.