The weekend is here, and has come faster than you thought! It's time to sit down and be entranced by our weekend binge suggestion, Father Brown. Father Brown is a BBC aired television show (streaming through Netflix), and it takes place in the fictional Cotswold village of Kembleford around the 1950s. The series is loosely based on the short stories of G.K. Chesterton and has been airing since 2013.
Father Brown comes close to looking like the Pillsbury dough boy. He's cute, a bit puffy, friendly, and the most kindhearted, forgiving priest you'd ever want to meet. He serves both as the local priest of the only Catholic Church in town as well as the town's only amateur sleuth. His mission isn't so much as to put someone behind bars as it is to save their eternal soul—without being preachy. He always offers each villain the chance to repent. Occasionally, he bends the rules to do what is best for all concerned. His genuine concern for everyone makes him easily forgiven. That is, everyone but the local inspector, who is in the habit of always arresting the wrong bad guy (or gal).
His ragtag team of "helpers" vary throughout the series and include the parish secretary, a countess, the countess' niece, and a dodger (sometimes known to the bend the law himself although never to the extent that he'd hurt anyone).
Members of the town make regular appearances. Even those who end up being on the wrong end of the law respect Father Brown for caring about them as a person, and caring for their soul. Many townsfolk seek him out when something goes terribly wrong in their lives. He's especially fond of meal time, thus the Pillsbury dough boy look, and Mrs. McCarthy's (parish secretary) award-winning scones.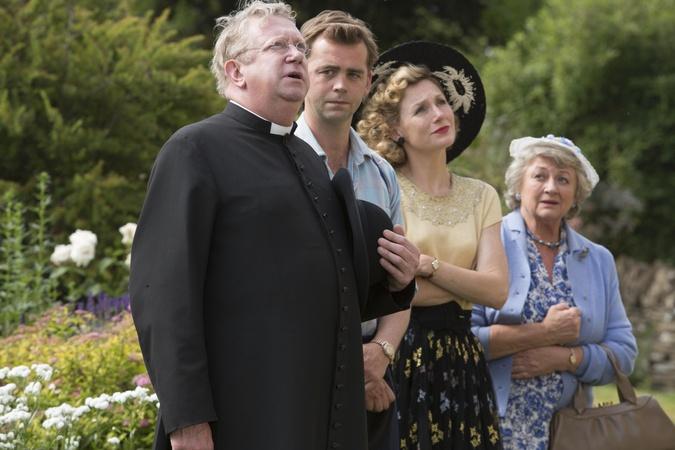 Brown takes his duties as a priest very serious. He often will know of a crime due to the seal of the confessional — and not be able to disclose what he knows as truth. Even so, he always finds a way to shine a bright light on truth without compromising his beliefs. This show pairs well with a glass of wine or "a pint" as they say on the show and a strawberry scone!
With a solid 5 seasons and 60 episodes total…this might keep you busy for more than one weekend.
– Jonna Feavel
Follow me on Twitter @40daygraphics