Just shy of four years later and Attack on Titan Season Two is finally here and hairier than ever! Streaming exclusively on Hulu, Funimation and Crunchyroll, fans can now tune in and watch new episodes as they come out with little to no delay from their original Japanese release. Airing it's first episode just this past Saturday of April 1st, if you have yet to tune in I implore you to recap on Season One which you can conveniently binge out on via Netflix.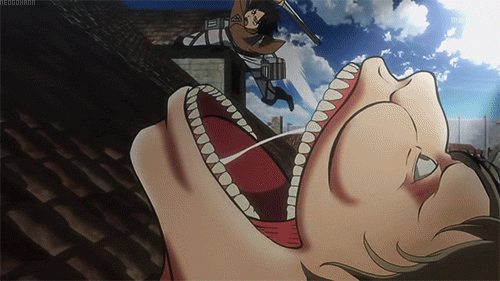 A huge fan myself I must admit even though I am quite well versed on the story it has been some time since I last re-watched all the episodes of Attack on Titan's first season. Fortunately for me I have been stalking the Internet vigorously on updates on not only Season Two but the live action adaptation movie as well.
Knowing damn well I could expect my first episode Saturday, I inevitably dedicated all of my Friday revisiting the adventures of Eren, Mikasa and Armin from the previous season on Netflix. Fully prepared for the Season Two debut of Attack on Titan, I can say in absolute certainty that it was worth the wait.
Featuring an irregular titan like we have never seen before, Attack on Titan Season Two's first chapter, "Beast Titan" introduces fans to a whole new adversary. For the first time facing off against titans with an apparent display of intelligence, Attack on Titan shows us a facet of the threat we have yet to see from our enemy. In true fashion of AOT, "Beast Titan" will leave you on the edge of your seat until the premiere of the next episode. No worries so long as you have a Hulu, Funimation or a Crunchyroll Premium account, the next episode is merely days away now. Check out the Season Two trailer below:
Why its worth the binge: Attack on Titan is perfect for fans of Fullmetal Alchemist: Brotherhood, Death Note, One Punch Man, and Tokyo Ghoul.
Time commitment: Season One runs for 25 episodes, Season Two has aired one episode as of 4/1/17
What about you? Are you excited for Season Two of Attack on Titan?
– Rachael Rumancek
Follow me on Twitter @RachaelRumancek